Benvenuti nel nostro sito
La Comunità Tibetana in Italia è un'associazione onlus senza scopo di lucro composta dai Tibetani residenti sparsi in Italia, è dedita a preservare e promuovere la ricca identità culturale tibetana e a far conoscere in Italia la grave situazione politica del Tibet. Svolge inoltre la funzione di riferimento per i Tibetani residenti in Italia.

L'associazione è riconosciuta da S.S Dalai Lama e dal Governo Tibetano in esilio in India, con il quale mantiene uno stretto contatto.
Self immolator Choeying breathes his last
Source: phayul.com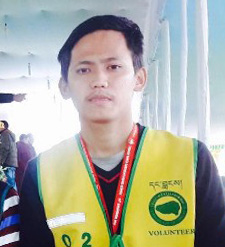 DHARAMSHALA, July 22: The Tibetan teen from Central University of Tibetan Studies who set himself ablaze for Tibet in Varanasi on July 14 has passed away around 4:50PM (IST) at Safdarjung Hospital today.
Tenzin Choeying, 19, from Dhondenling Tibetan settlement in Kollegal, was a student at the Central University of Tibetan Studies. He carried out the fiery act outside the men's hostel following a speech by Sikyong Lobsang Sangay on the campus on July 14. He was protesting China's illegal occupation of Tibet and their policies. Tenzin Choeying was a member of Tibetan Youth Congress chapter in Varanasi and a part of the Tibetan Youth Congress' volunteer crew during the 2017 Kalachakra in Bodh Gaya.

A handwritten letter left by him for someone he called Nubz was also posted on Facebook along with his pictures from the hospital. "My body is for Tibet and Tibetan youngsters to open eyes to learn Tibetan language," he wrote.

According to the doctors, he suffered around 66 percent burn on his body, mostly around the lower region. However, he has suffered minimal burn around his head and facial area. By Friday. his burn percentage had reached 90 percent.

He was also a member of Tibetan Youth Buddhist Association and Cousin brother of Tibetan activist Tenzin Tsundue. "Since I am an activist and I am proud of seeing a young Tibetan sacrificing so much for the Tibetan cause. At the same time being a brother, I am also concerned about him and his wellbeing," said Tenzin Tsundue on July 14.

Son of father Ngawang Khedup and mother Tashi Yangzom, Choeying was the youngest of four siblings of the family.

Choeying will be cremated in Dharamshala on July 26.